AUNT MIMI is an up-tempo, acoustic guitar duo performing pop hits with a rock edge. We cover material from the present decade to as early as the 1950s -- from the Avett Brothers and Guster to the Kinks and the Everly Brothers. We combine harmony singing, varied guitar arrangements, and a wide range of styles in a way that keeps audiences listening and anticipating the next tune. Aunt Mimi's overall sound incorporates American rock ballads, British pop, and country.
Steven Malatesta (guitar, vocals) has sung in acoustic groups such as Mid-Life Crisis and The Big Lie. A drummer and vocalist for many years with Boston-area rock bands, Steve has also sung on stage, notably in the Boston-based musical Curley. Acting credits include Ebenezer Scrooge in A Christmas Carol and R.P. McMurphy in One Flew over the Cuckoo's Nest. Steve pens the occasional original tune for Aunt Mimi.
Dermot Whittaker (guitar, vocals) began performing in Charlottesville, Virginia, venues like the C&O and the Cotton Exchange. He has played hundreds of club dates and town concerts in groups such as the Falmouth-based Cajun and zydeco group Buzzards Bayou and the MCMAA award-winning modern country band True West. Derm was a founding member of the Stacked Wood honky-tonk jams.
For booking, email Aunt Mimi at info@auntmimimusic.com
Steve and Derm on break (photo: s malatesta)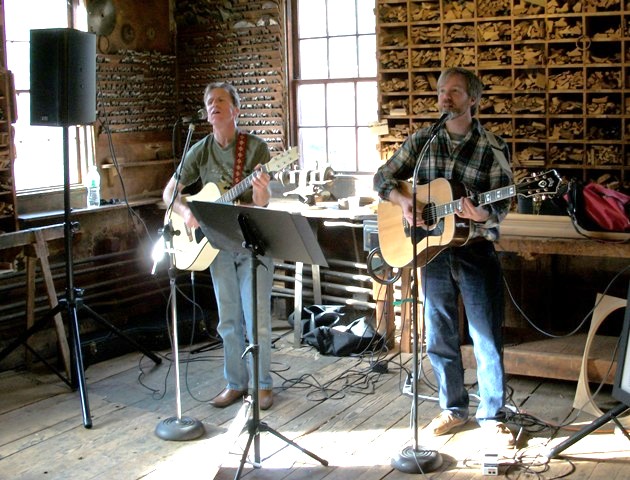 Aunt Mimi at Old Schwamb Mill 3/20/2010 (photo: k seward)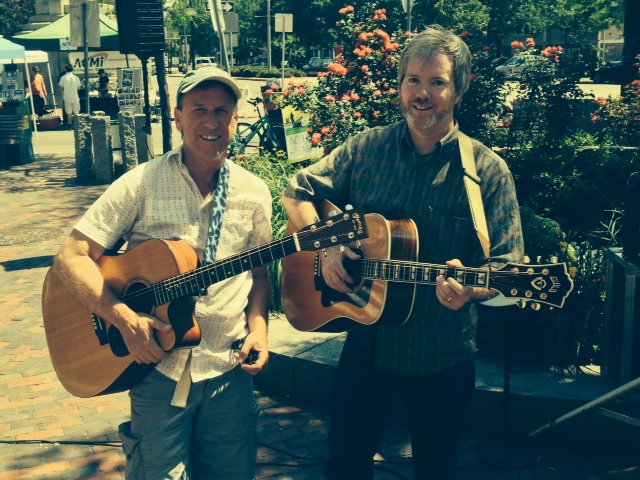 Aunt Mimi (l-r Steven Malatesta, Dermot Whittaker) between sets at the Arlington Summer Arts Block party (photo: elizabeth)