Acoustic Duo -- Hits and out-of-the-way tunes from the 2000s, '90s, '80s, '70s, '60s, '50s...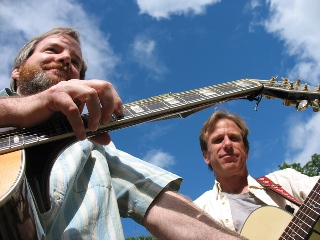 Steven Malatesta, vocals and guitar
Dermot Whittaker, vocals and guitar
For booking, email Aunt Mimi at info@auntmimimusic.com
Find us on Facebook.
NEXT APPEARING...
SAT JUN 17, 2023 6:00-9:00 pm
78 Main St, Hudson, MA (Town Hall)
Check this site for cancellation due to inclement weather!

The Aunt Mimi Trio, including Steve Smith on guitar and vocals, will be back at this year's summer concert series on Hudson. This series is put on by the Hudson Business Improvement District. Note that like most summer concerts, this outdoor show can be canceled in the event of inclement weather.
See where else we've played here ...